Rock Hill, SC is home to some of the best hotels in the country. Whether you are looking for a luxurious experience or a more budget-friendly option, Rock Hill has something to offer everyone. In this blog post, we will list the 10 best hotels in Rock Hill based on customer ratings, service, amenities, budget, and location.
We hope that this blog post will be useful for those of you who are planning a trip to Rock Hill. We know that you will not be disappointed with the selection of hotels available in this charming city.

If you're looking for a pet-friendly hotel in Rock Hill, SC that offers great amenities and exceptional customer service, look no further than La Quinta Inn & Suites. This 2-star property boasts an outdoor pool, business center, meeting room, fitness center, and other standard amenities. The hotel also offers free bus and truck parking, a 24/7 help desk, a complimentary breakfast buffet, and mobile checking facilities. Guests who have stayed here love the hospitality and easy access to downtown Rock Hill attractions like the Main Street Children's Museum, Glencairn Garden, and Winthrop University.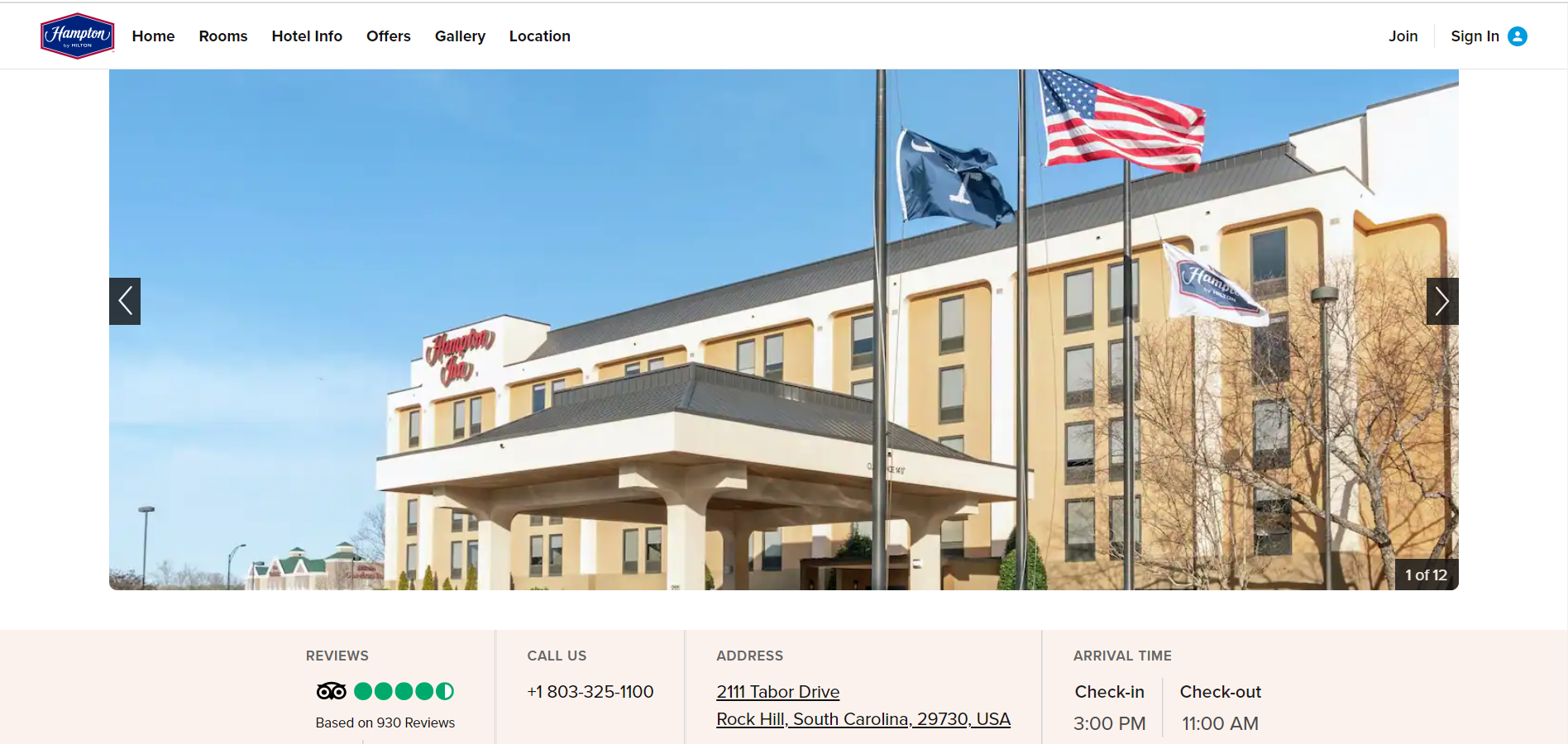 The Hampton Inn is an excellent choice if you're searching for a clean and pleasant hotel stay in Rock Hill, South Carolina. This 3-star property scored high marks from previous guests for its rooms, which feature microwaves, refrigerators, air-conditioning units, and other standard amenities. The hotel welcomes pets and has a business center, fitness area, and children's play area. Additionally, the Hampton Inn is within walking distance of the Rock Hill Galleria Mall and just two miles from Manchester Meadows Park and Lake Wyle.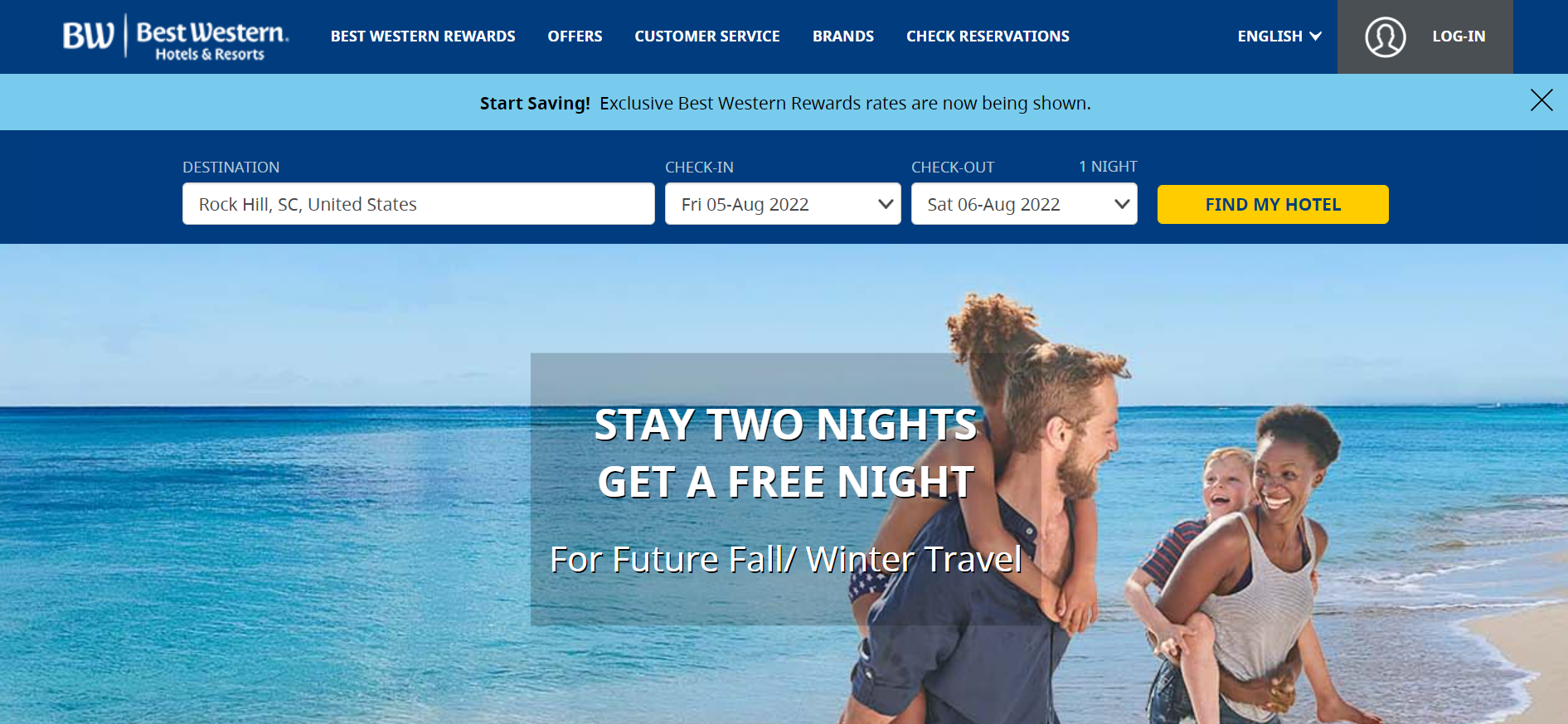 The Best Western Rock Hill is a great option for those looking for a budget-friendly hotel in Rock Hill, SC. This 2-star property offers free internet service and ample parking space. Both front desk and hotel staff offer exceptional service, the rooms are clean and provide all standard amenities including air-conditioning and a refrigerator. The free breakfast is good. The property is only 2 miles from Riverwalk Trail, a paved, winding trail that runs alongside the Catawba River, 4 miles from Ebenezer Park Rock Hill, and very close to the renowned Winthrop University.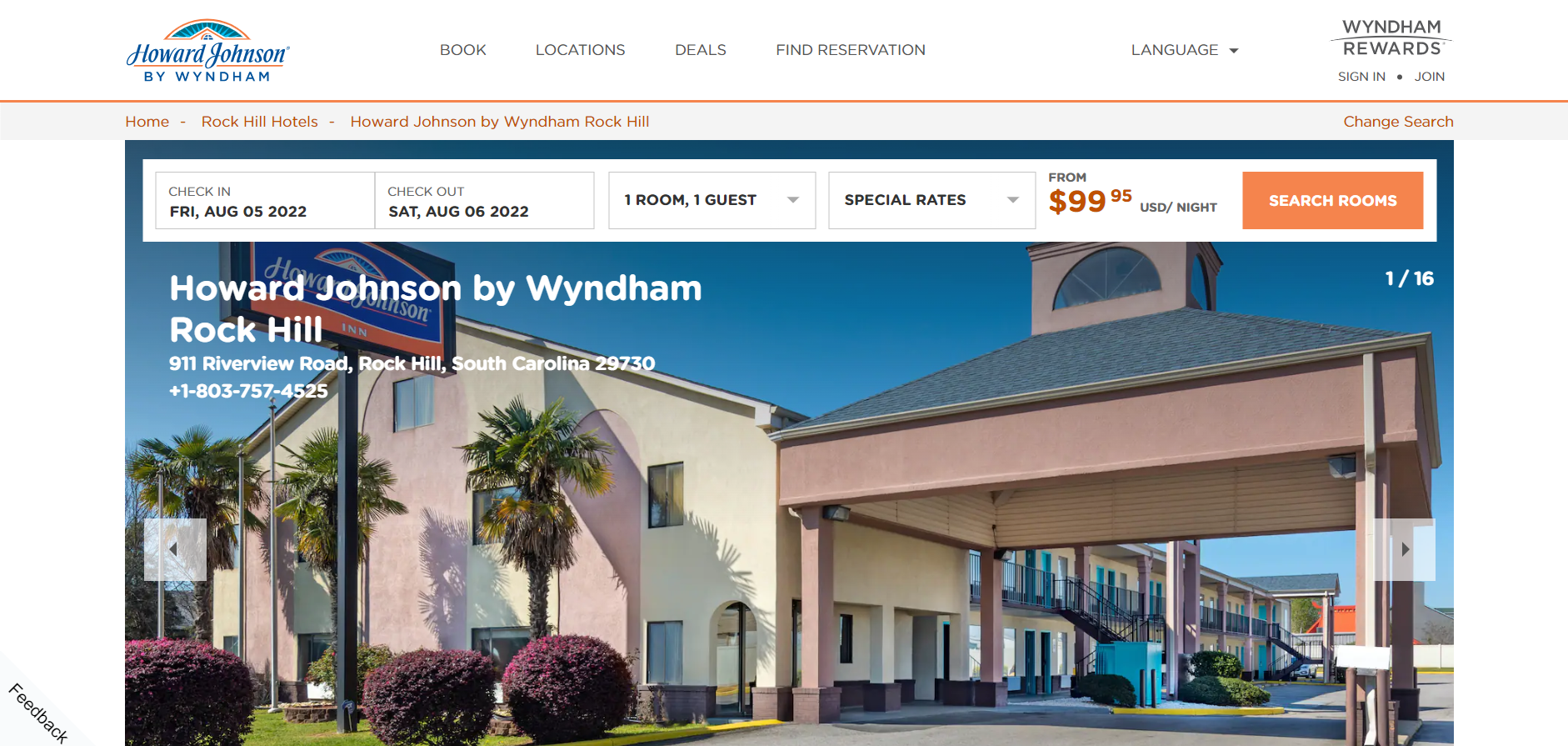 Customers who have stayed here consider this place an excellent value for money. Clean rooms with all modern amenities like a flat-screen TV, free Wi-Fi, air-conditioning, and microwave are a big draw for patrons. The motel is pet-friendly and offers free breakfast, a fitness center, business center with internet access. The property's location with 36 restaurants within one km of the property makes this a popular choice for travelers. Local attractions include the roller coasters and water rides at Carowinds, about 15 minutes away. Customers can also shop at Concord Mills or go boating at Lake Wylie Marina, just a short drive from the Howard Johnson Rock Hill.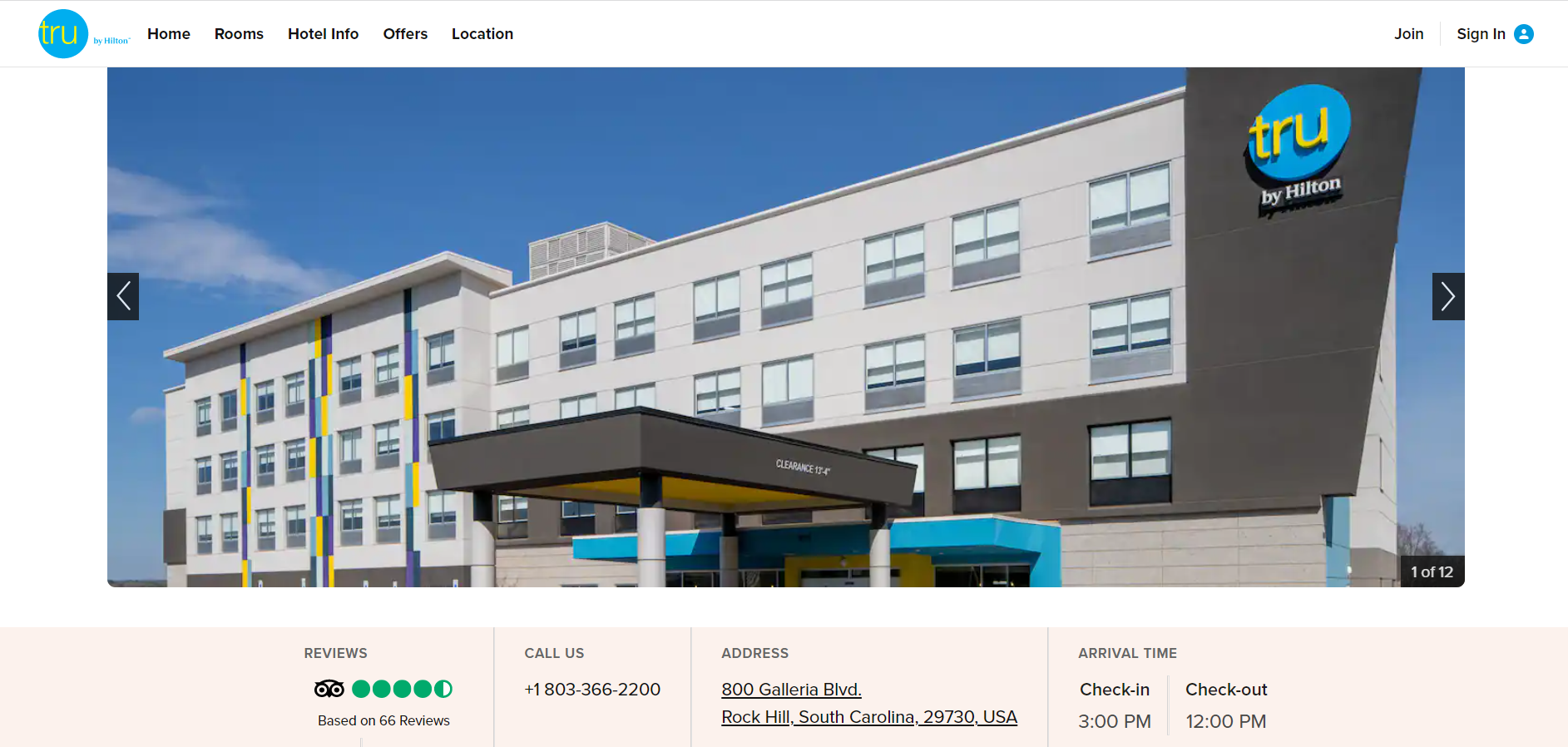 This property is just off I-77 and close to Rock Hill's retail mall, and the restaurant hub is a popular choice with travelers. With an excellent overall rating from customers, the hotel offers a pool, free parking and high-speed WIFI, a children's activity area, a business center, Gym, and a convenience store. Patrons love this place for its exceptional service, value for money, and location. The hotel is near Winthrop University and Cherry Park. Waterford Business Park, home to 3D Systems, Omnova, and more, is 2.5 miles away.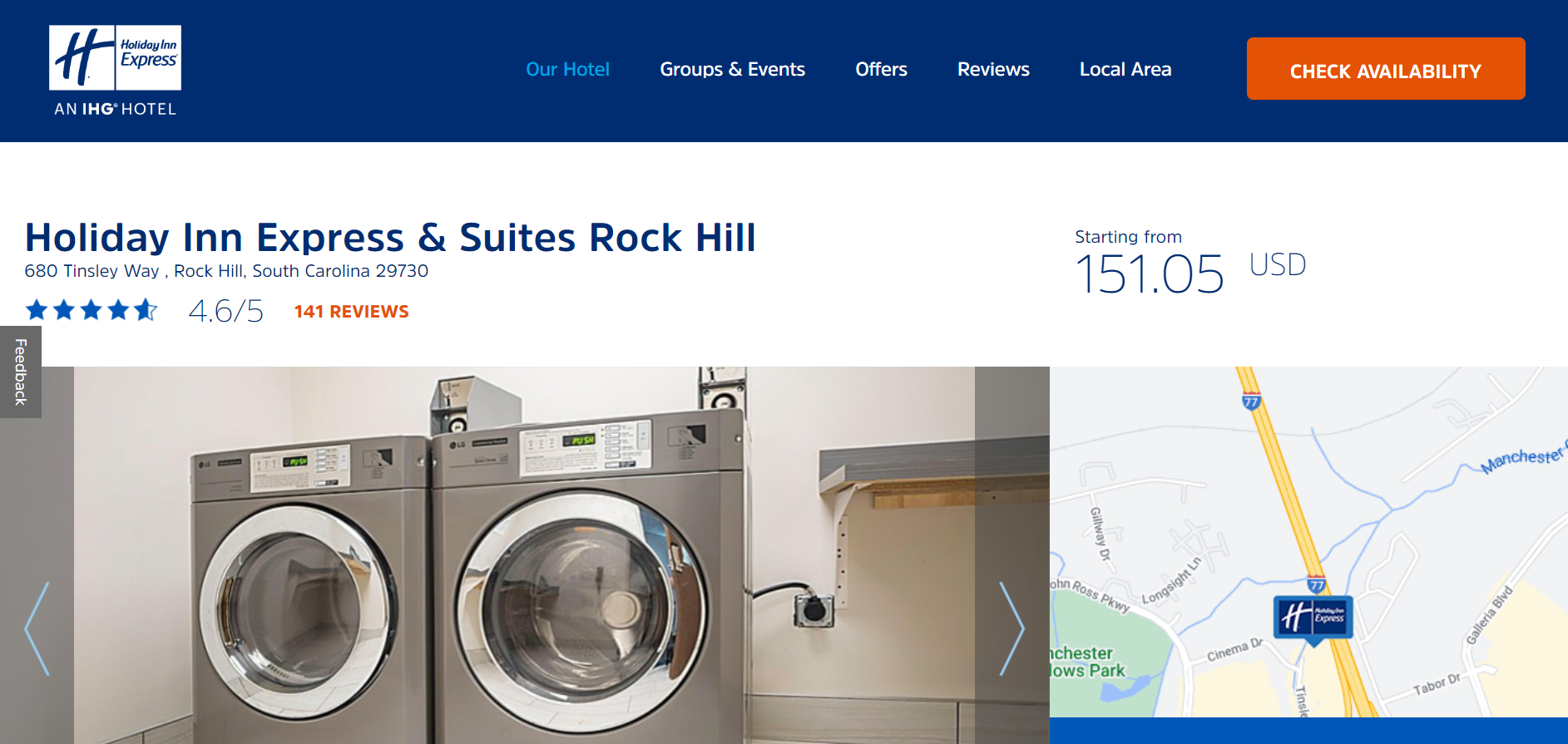 The Holiday Inn Express is located in the heart of Rock Hill and is a perfect base to explore all that the city has to offer. The rooms are spacious and clean with all standard amenities like a mini fridge, microwave, coffee maker, etc. The hotel offers a complimentary breakfast buffet, fitness center, business center, and an outdoor pool. Customers loved the location as it is within walking distance of the Rock Hill Galleria Mall, Clover School District Offices, and Manchester Meadows Soccer Complex. Charlotte Douglas International Airport is only 30 miles away.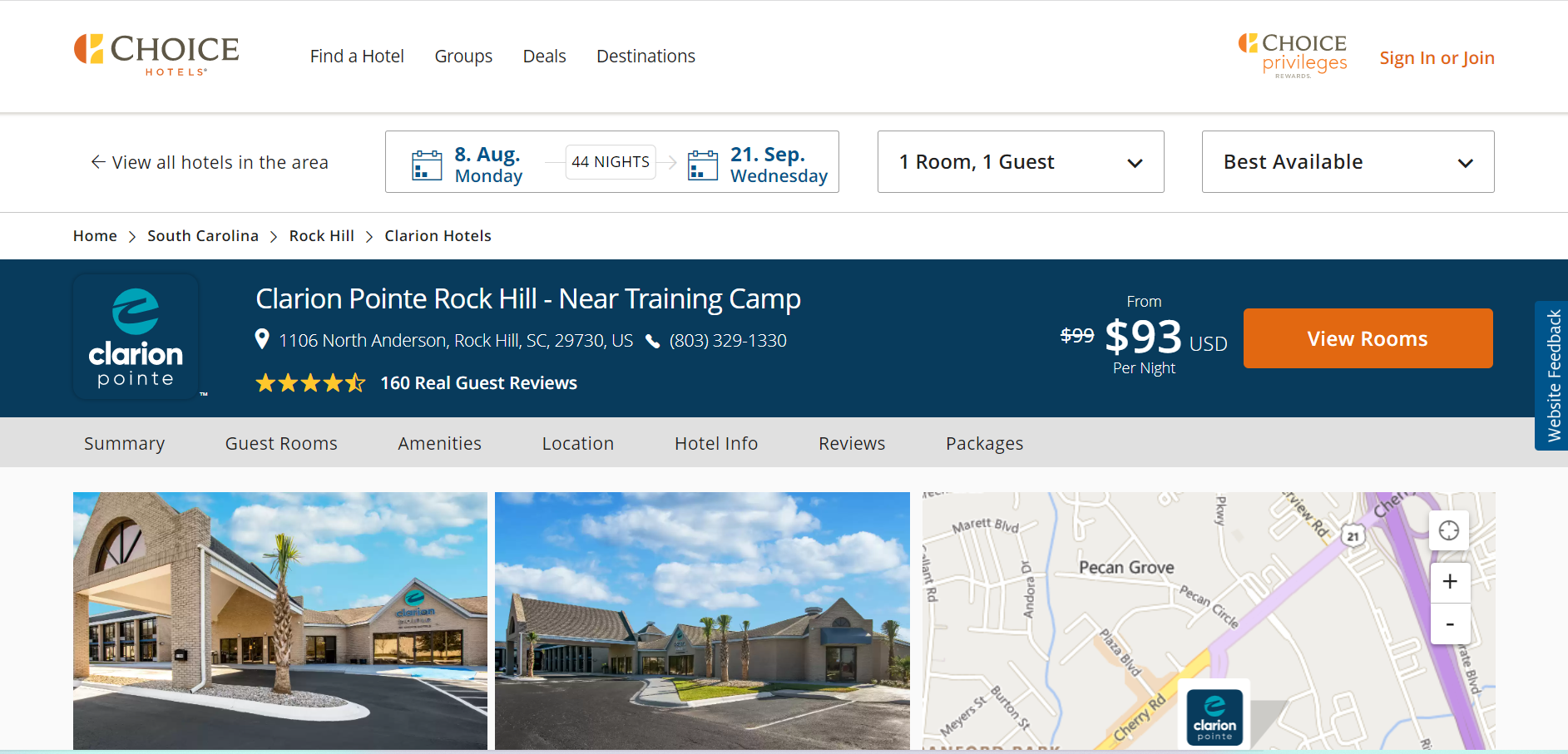 Clarion Pointe, a comparatively new property in Rock Hill, SC is a delight for business as well as pleasure travelers. The hotel offers a great location, pool view suites, free breakfast, a business center, and all standard amenities in the rooms. Local attractions that can be explored from this hotel include Nearby attractions, including Cherry Park, Manchester Meadows Park, Rock Hill BMX Supercross Track, Carowinds Theme Park, and Fountain Park. The hotel is pet friendly and offers kids free stay. This is certainly one of the best value-for-money properties.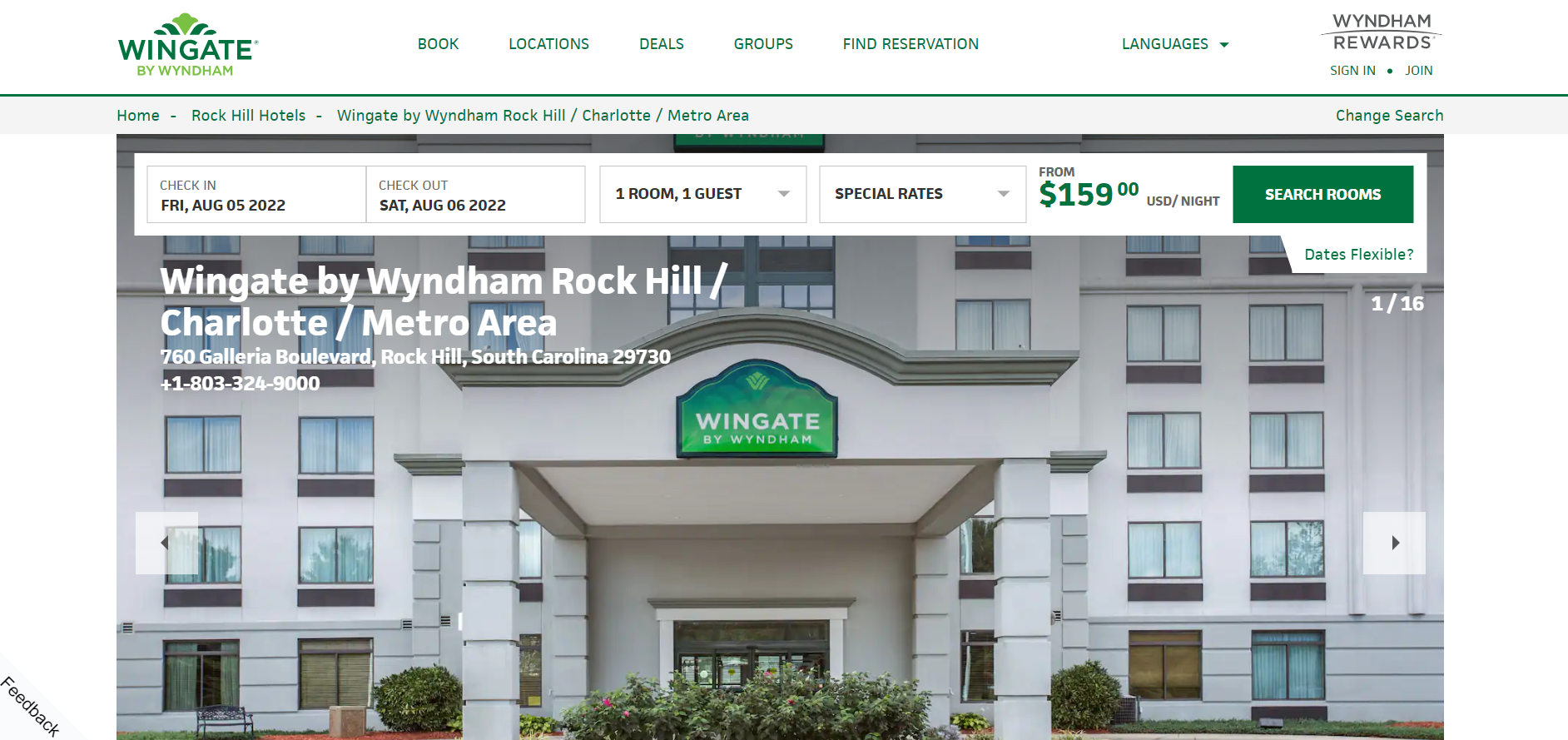 Wingate by Wyndham Rock Hill, located across the Rock Hill Galleria Mall is a stone's throw away from some of the most popular Rock Hill restaurants. The property promises old-fashioned Southern hospitality with its old-world décor and modern amenities. Winthrop University is just 10 minutes from the hotel, while Waterford Golf Club is less than five minutes away. The hotel offers an airport shuttle, a free shuttle to local attractions, and a Free breakfast buffet. The inviting pool and the state-of-the-art fitness center are a winner with all their customers.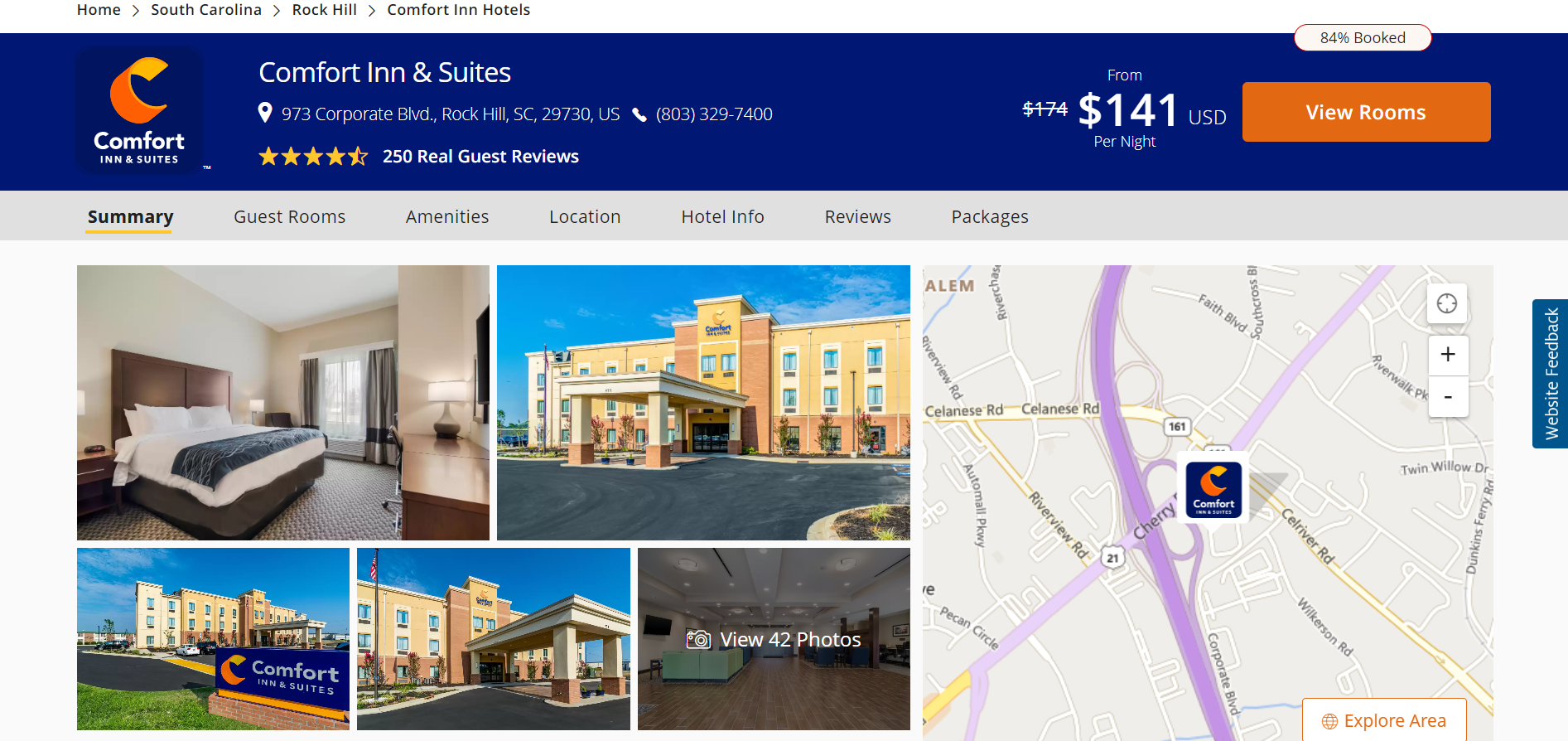 The newly built Comfort inn & Suites Rock Hill, SC near River view Corporate park offers its customers a great opportunity to explore the city. Pet owners love the warmth and customers love the location and the breakfast bar. The hotel is close to Rock Hill BMX Supercross Tra, Cherry Park, and Rock Hill Galleria Mall. A clean room with good air conditioning and other amenities, and a decent-sized pool make this a popular pick for travelers.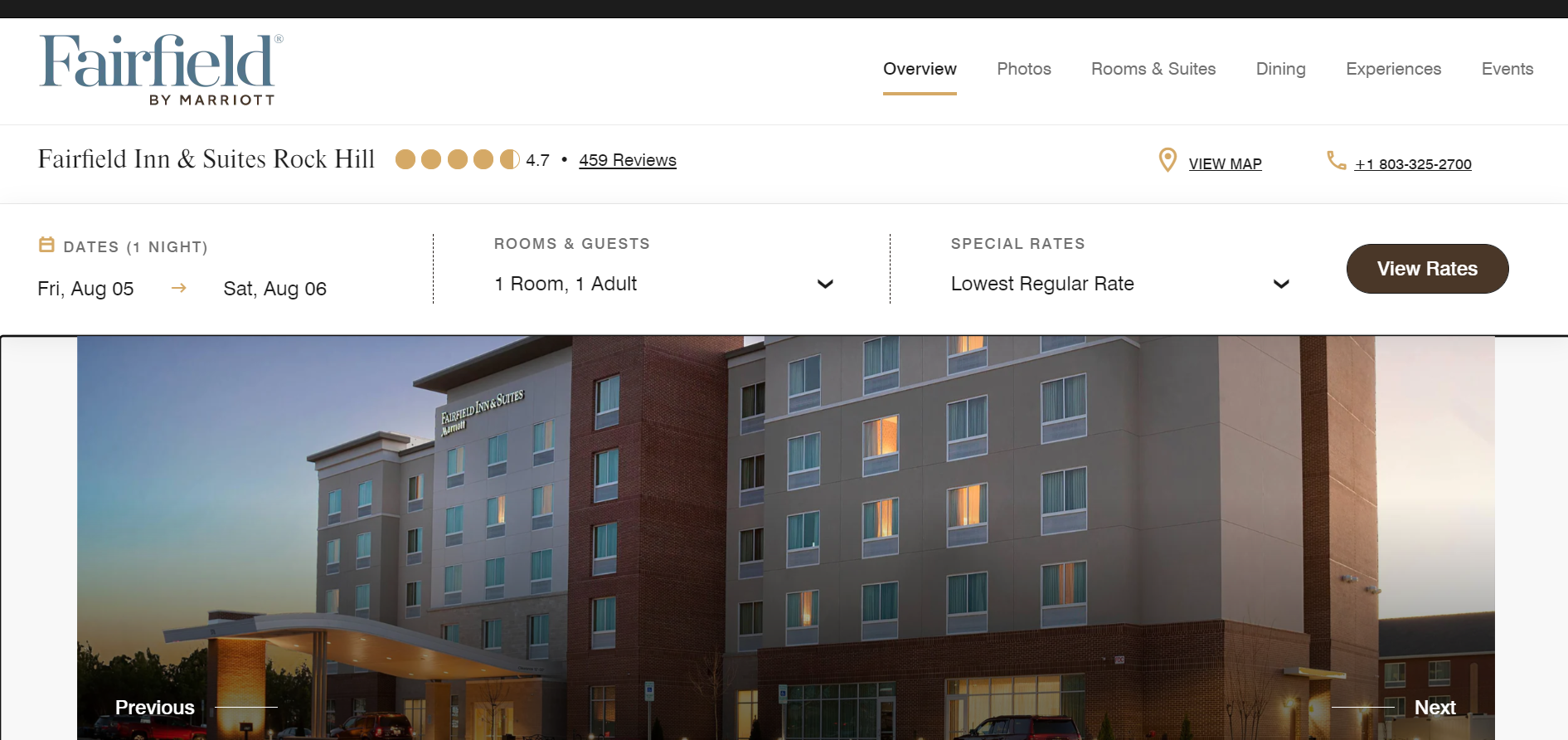 The Fairfield Inn & Suites Rock Hill is a family-friendly hotel located just three minutes from Fountain Park, one of the famous local attractions. Moreover, 36 restaurants within one km of this property make this an ideal property for travelers. This property has a pool, gym as well and off-site bowling and tennis court. The hotel is located close to Winthrop University, Rock Hill Galleria Mall, and vibrant Charlotte, NC. The exceptional service provided by the hotel staff and comfortable rooms makes this an ideal place to stay while in Rock Hill, SC.
Now that you know about the ten best hotels in Rock Hill, it is time for you to make a choice. Each of these hotels has its unique set of features and services that will cater to your needs. Whether you are traveling for business or pleasure, there is a hotel on this list that will be perfect for you.

Want to make your stay in Rock Hill even more enjoyable? Then be sure to check out some of the city's top attractions, businesses, restaurants and more. With so much to see and do, you are sure to have a great time in Rock Hill!